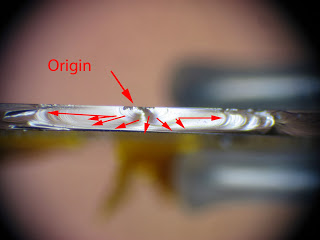 Fracture Surface of Chemically Tempered Glass
Taken at the origin Mag 30 X
The glass failure analysis experts at Read Consulting failure analysis labs have over 40 years of experience working with chemically tempered glass (such as gorilla glass). Chemical tempering uses ion exchange techniques to create surface compressive stresses. Unlike thermally tempered glass, the thickness of the compressive layer is not a function of the glass thickness, and it is extremely thin (approximately 10µ). Typically chemically tempered glass is used on most touch screen computers and touch screen phones. The glass on these devices is too thin (less than 1mm) to be thermally tempered. Chemical tempering makes the glass stronger than annealed glass in bending, but it is equally vulnerable to cracking from impact. Above is a failure origin from a hand held digital controller. This glass was less than 1mm thick  This failure was caused by point impact. This failure is no different than what one would find if an annealed piece of glass had been subjected to the same sort of point damage.