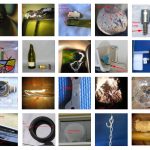 Read Consulting offers a variety of services to comprehensively fulfill any accident reconstruction, failure analysis, product liability and contract or patent dispute applications.
Accident Reconstruction and Product Liability:
User Safety and Equipment Design.
Failure Analysis and Fracture Mechanics:
Glass Failures:
Bottles (Wine and Champagne), Windows, Windshields, Dishes, Cook Wear etc.
Metallurgical Failures:
Welds, Gears, Ladders, Straps, Cables, Brackets, Bolts, Cutting Blades, etc.
Ceramic Failures:
Grinding Wheels, Cutoff Blades and Structural Ceramics.
Corrosion Failures:
General; Galvanic, Electronic Devices.
Plastic, Polymer, Composite Material and Wood Failures:
Packaging, Furniture, Ladders, Levers, gears, plumbing and small tooling
Contract Disputes:
Including incoming part quality, Knowledge of statistical inspection procedures, understanding of design transfer and extensive experience in the area of contract negotiation.
Patent Disputes:
Design analysis, Patent analysis, Patent searches.