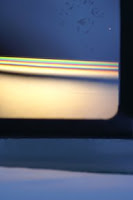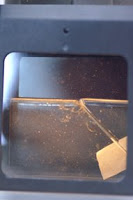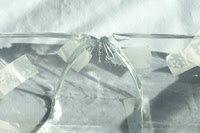 Glass expert discusses recent changes in glass bakeware:
Traditionally glass bakeware was made from Pyrex type glass (i.e. borosilicate) glass. Borosilicate glass has a lower coefficient of thermal expansion than soda lime glass, and therefore, stresses generated by thermal gradients are less. This has changed. Now glass bakeware is made from tempered soda lime glass. Thermal tempering increases the strength of the bakeware by generating a compressive layer on the outer surface of the glass. This stress must be overcome before the surface can experience tensile stresses. Thus, the glass piece is stronger. Recently Read Consulting was asked to perform a failure analysis of a supposed tempered glass baking dish that had broken. The packaging advertised that this tempered glass is safer because it will break into small pieces instead of the large pieces that normal Pyrex glass would make.
The broken dish is shown directly above.
The fracture pattern is not that of tempered glass. Therefore an edge stress meter was used to look at the glass edge on the failed part and on an exemplar. The top left photo is the stress meter measurement taken of the fractured baking dish.
The next photo is of asimilar measurement on a tempered edge. The color fringes indicate that the glass edge is tempered.
Obviously,the subject dish was not tempered.