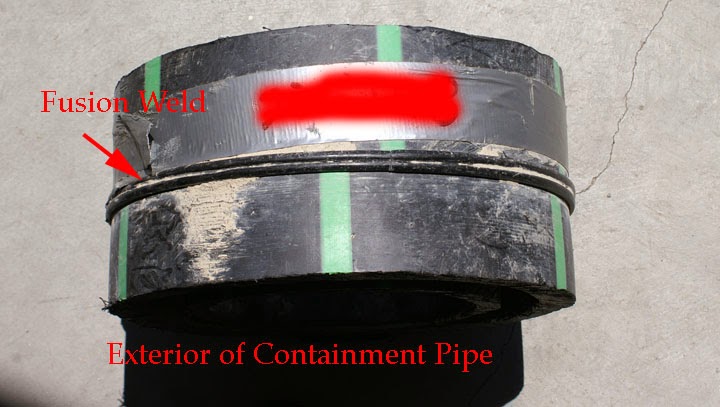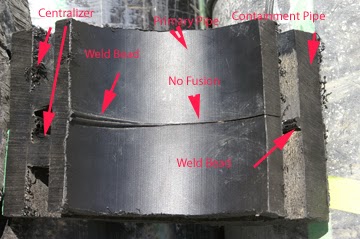 Poor Welding of a Carrier
Pipe Joint There was no
Melting on a part of the joint
Read Consulting, a California failure analysis lab, has performed numerous plastic failure analysis on various types of plastic pipe. This includes PVC, CPVC, Delrin and Polypropylene. In this case a plastic failure analysis was performed on a failed containment waste transition line made with fusion welded high density polyethylene pipe. The line was several miles long. The interior transmission pipe had an OD of 8 3/8″ and a 1/2″ wall thickness. The containment pipe had 12 3/8″ OD with a wall thickness of 1″. There were numerous leaks in the line, and all were found to result from poor fusion welding procedures. The upper right photograph shows a weld on the interior carrier pipe that leaked. In this case the ends of the pipe had not been properly welded before the pipes were fused. This resulted because the pipe end never contacted the heater plate. Obviously, the fusion weld procedures were not properly followed. It is important to follow exactly the manufacturer's recommended procedures when fusion welding high density polyethylene pipe. In addition, all joints should be leak checked before being buried in the ground. Poor fusion welding creates leaks that are hard to find and are very expensive to remedy.