Introduction
Chips of a foreign material were found in canned tomato product at a customer's site. A materials and food packaging expert performed a failure analysis to determine the source of these flakes.
Procedure
The chips were documented with a low power microscope. In addition, the materials present were evaluated using two methods. The shiny metal layer was examined with a scanning electron microscope (SEM) with energy dispersive spectroscopy (EDS). The composition of the organic layer was determined using Fourier transform infra-red spectroscopy (FTIR).
Results
Figure #1 shows the two sides of one of the flakes found by the customer in the tomato product. One side is gold colored and the other side is shiny and appears to be metallic. Figure #2 shows another flake submitted for evaluation. This chip is twisted so one can see both sides in the photomicrograph. In addition, the organic layer has partially separated and is visible.
Metal Layer: EDS showed the metal layer to be tin (Sn).
Organic Film: FTIR determined the gold film to be Poly (ethylene vinyl acetate: vinyl chloride). This matches the organic liner material of this type of can.
Discussion
The interior of a "lot retain" can is shown in figure #3. The overall thickness and materials present for the chips from the retained can and the subject chips are identical. The subject chips consist of plastic coated tin foil. This foil will not cut a person ingesting it. In addition, neither the tin nor the plastic layer is toxic; in fact, both are approved for food contact applications. Both will pass through the digestive system without being digested, and neither poses a health risk. However, there is a risk that over time, the can will rust in the exposed areas. The corrosion products will affect the flavor of the tomato product. In addition, there is a chance that the can could eventually leak as a result of corrosion.
| | |
| --- | --- |
| | |
| Side #1 | Side #2 |
Figure #1: Photograph of one of the found at a customer's site. a defective Silgan can and submitted to Read Consulting for evaluation. Side #1 is the gold colored and appears to be an organic sealer that is applied on top of the tin plating on the can's interior. Side #2 is shiny and metallic, and it appears to be the tin plate layer that is put on the can interior prior to the application of the organic sealer. (Original Magnification 20X).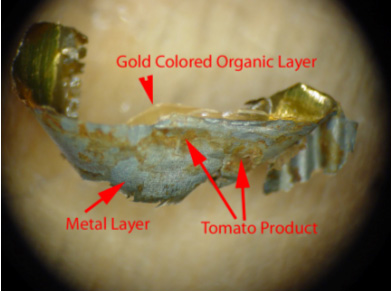 Figure #2: This is a photomicrograph of another chip submitted for evaluation. One can see both sides of the chip. In addition, the organic sealer has started to separate and it is seen as a transparent gold layer at the top of the photo (Original Magnification 20X).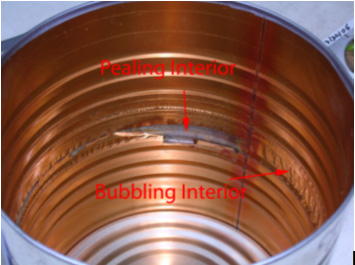 Figure #3: Photograph of the interior of one of the lot retain cans that shows signs of deterioration. One can see that the interior coating of the can is peeling off. The gold color is from the organic seal coat.