Read Consulting was asked to determine the cause of cracking of glass swimming pool tiles. After construction and filling of a new pool, many glass tiles were cracked. For example, there were 1072 glass tiles on one wall were found to be  cracked.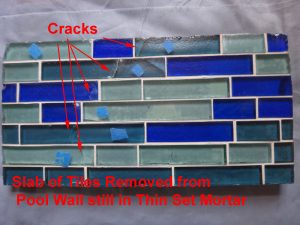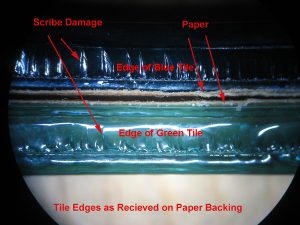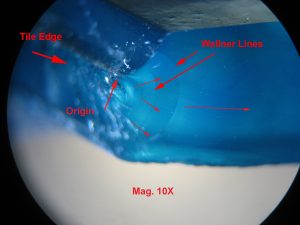 Cause of Failure: The tiles cracks initiated on the scribed edges. The driving stress was thermal stresses created by difference in coefficient of thermal expansion between the mounting thin set mortar and the glass tiles.
Examination of new tiles determined the following:
The individual tiles were glued to a paper backing, and, during handling, these tiles could contact each other on the edge and create damage.
The as purchased sheets of tiles had an array of lengths and colors.
The tile edges indicate that the individual pieces were scribed and broken from larger sheets. These edges had rough finishes that can initiate cracking. These tiles have a an edge "flair" that exceeds 1mm. This does not comply with ANSI A137.2 2013 Section 7.1. In addition,  with the inconsistent snap and break edges a, consistent grout line is not possible; therefore, the requirements of Section 7.6 are also not met.
These tiles do not allow a consistent grout line.
These tiles failed the ANSI A137.2 2013 Section 8.2 to 8.4 thermal shock test for glass tiles (i.e. delta T of 100° F).
 A major contributor to cracking may be the fact that the coefficient of epoxy filled thin set 35 to 40 X 10 -6 K-1 which is approximately five times that of glass (9 X 10-6 K-1 
Failure analysis of broken tiles indicate that the failures initiated on the scribed edges.