Introduction
The materials Engineers at Read Consulting LLC performed a root cause glass failure analysis of a small lacquer bottle that arrived broken at the customer's site.
Visually examine the failed glass bottle.
Clean the Lacquer off the fracture surfaces of the failed bottle.
Using a low power microscope, perform a fractographic analysis of the bottles and document the results
Results Summary
The subject bottle had the neck separate from the bottle at the shoulder. The root cause of the failure was determined to be an impact to the bottle on the shoulder where it intersects the neck.
Discussion
The impact point is odd in that it isn't on the outer perimeter of the bottle. If this damage had occurred on the production line, one would expect the mechanical damage to have occurred on the bottle's outer perimeter. The location of the damage suggests that it occurred during shipping.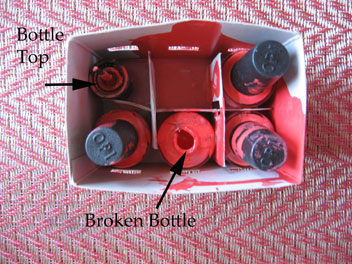 Figure #1: : Photograph of one of the broken subject bottle as it was received from the customer.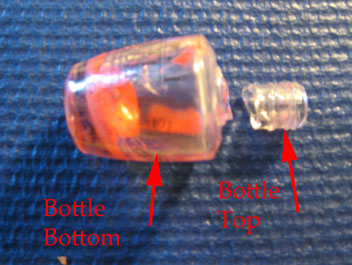 Figure #2: : Subject bottle and top after the top has been removed from the cap and much of the red lacquer has been removed.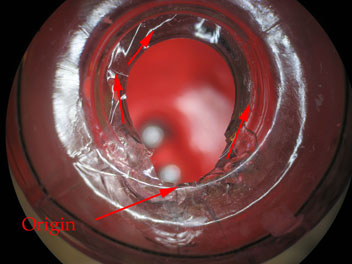 Figure #3: : Photomicrograph of the origin of the fracture top of the bottle. This Fracture initiated at an impact point on the shoulder near the neck. The impact is verified by the presence of conchoidal fractures that are a result of impact (Mag. 8X).
| | |
| --- | --- |
| | |
| Left Side Near Origin | Right Side Near Origin |
Figure #5:Photomicrographs of the fracture surfaces on the bottle top near the origin the markings (i.e. Wallner Lines) show that the crack is exiting the origin (Mag. 40X).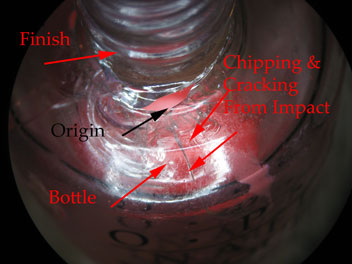 Figure #4: : Top down photomicrograph of the assembled broken bottle. This failure was caused by impact to the bottle where the neck intersects the shoulder (Mag. 8X).