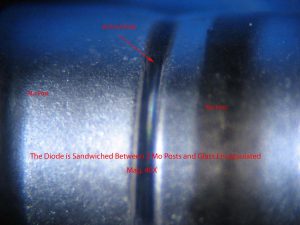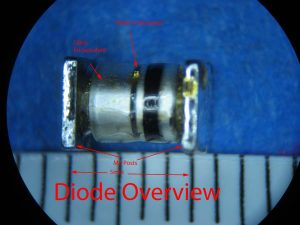 Figure #1: Overview of glass encapsulated diode,
Glass to metal seals perform an important role in electronic circuit assembly and packaging. Many sensitive devices, such as diodes, are encapsulated in glass to metal seals. These are then surface mounted onto circuit boards. Read Consulting has extensive experience with glass to metal seals (GTMS) and circuit assembly and was engaged to examine the cause of glass cracking. A manufacturer of surface mount circuits saw a spike in cracking losses of the mounted diodes. Glass failure analysis was used determine how to reduce the losses. Two dominant failure modes were uncovered; these are shown below.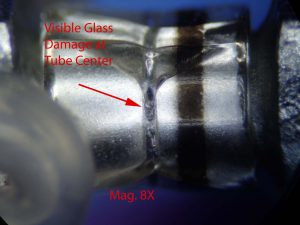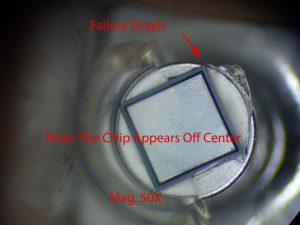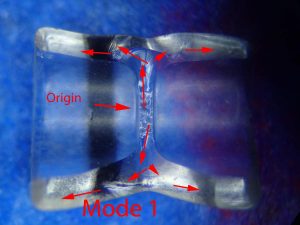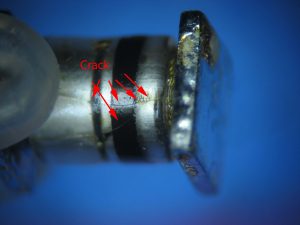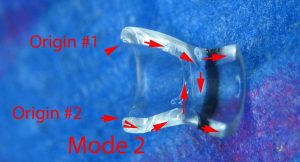 The diode is mounted on a Mo plug, and then sealed in soda lime glass. Due to the mismatch in TCE's, stress in the glass can develop stresses during sealing and during solder flow processing. Because the solder re-flow melt temperature is pre-determined, only the slope of heating and cooling can be altered in the process.   It is suggested that the belt speed in the re-flow furnace be reduced 10% This would reduce thermal stresses encapsulated diodes and should improve yields.