Failure Expert Examines Plastic Pipe Failure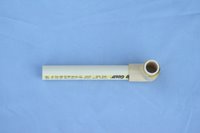 A 90° CPVC Elbow connected to a hot water line failed after three years of service in a system operating at 130°F. The photograph at the right shows the failed elbow after it was removed. The crack is on the inside of the 90° angle.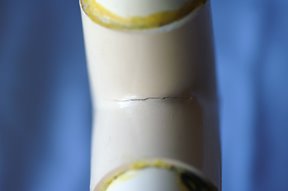 This photo is a closeup that shows the crack in the elbow. Although it only goes partially around the elbow, it leaks.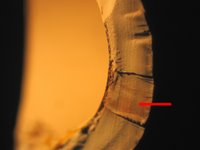 The elbow was intentionally broken to expose the initial fracture surface. The failure shown at the right is a fatigue failure initiating from the outside and working inward. The arrow points to the fatigue striations. Also, one can see staining where the water was leaking out through the crack. Apparently cyclic stresses were applied to the elbow. These could have come from either vibrations or stresses created by thermal expansion of the attached pipes when they are heated up by the 130°F water.