Array of Pogo Pins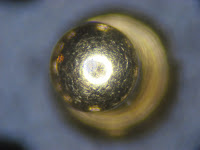 Top of Pogo Pin at Mag. 30 X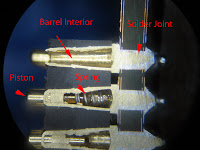 Cross sectioned Pogo Pins at Mag. 5 X
Read Consulting Failure Analysis Labs often perform electronic failure analysis for various manufacturers. The objective is to determine the root cause of the failure and help the manufacturer correct the problem.In this case, a company that assembles an array of Pogo connector pins into an instrument for multiple contacts. Some of the Pogo pin arrays are hand soldered into the equipment; other arrays are assembled using a wave solder machine. The wave soldered arrays had poor contact. Initially we were told that there were two shipment lots of Pogo pin arrays, and it was thought that  one was bad. Read Consulting tested a representative sample from both lots and could find no difference:
1. Through the optical microscope the pins from both lots were found to have good gold plating. On the upper left is a  photomicrograph of the surface of a "bad" pin.
2. In both cases testing the Pogo pins with a needle showed good contact all through the instrument.
3. Samples were cross sectioned and both lots showed good plating on the interior of the Pogo pins. Center photomicrograph.
The client was advised that there was no bad lot. It was suggested that the Pogo pins be wiped with isopropyl alcohol and retested. This test was successful; therefore one must conclude that a contaminant film settled on the contact surfaces during the wave solder operation. The alcohol wipe was added to the procedure.