Dezincification is the corrosion of an alloy (i.e. metal) where the Zn in the alloy reacts preferentially in a corrosive environment. Basically, in yellow brass it is a process in which zinc is lost and porous copper is left behind. Red brass (i.e. <15 wt% Zn) does exhibit dezincification; however, the occurrence is rare because the Zn is still in the Cu matrix. Yellow brass with >25wt% Zn is more susceptible to dezincification. This is because there are Zn rich regions in the alloy. The less noble metal, Zn, is removed from the alloy by a microscopic-scale galvanic corrosion mechanism. The most susceptible alloys are the ones containing regions of metals with high difference in the galvanic series, e.g. copper (much more noble) and zinc (more reactive) in brass (See Figure #1). Simple fittings can be made with red brass. However, for complicated valves, such as flow control valves or isolator valves, which require forging and complex machining, leaded yellow brass chosen. Because lead presents health issues, new low lead yellow brass alloys have been recently developed.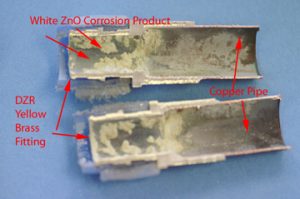 As a response to dezincification, brass companies have developed dezincificat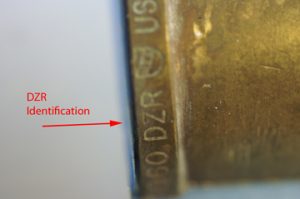 ion resistant alloys, and these are stamped DZR. Unfortunately, many factors affect dezincification and an alloy might be considered DZR for one application may be vulnerable in another.